MIOBC Class 85-6 "Virtual" Reunion

---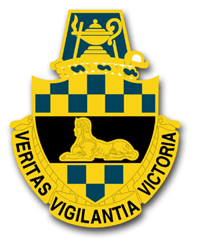 U.S. Army Intelligence Center and School (USAICS)
Military Intelligence Officer's Basic Course
Fort Huachuca, Arizona
It seems like the blink of an eye, but 2005 marked the 20th Anniversary of our MIOBC class.
Because we have scattered to the four winds, an in-person reunion is probably not practical. (Perhaps a 30th Anniversary meeting somewhere?) So I decided to host a "virtual reunion" on my web site.
Please e-mail me your contact info, a biographical sketch (with an emphasis on what you have been doing since 1985) and perhaps a JPEG photo and I'll put them up on the site. Thanks! - Jim Rawles e-mail: rawles@usa.net
If you have phone numbers or e-mail addresses of any of our classmates please e-mail me, and send them this URL!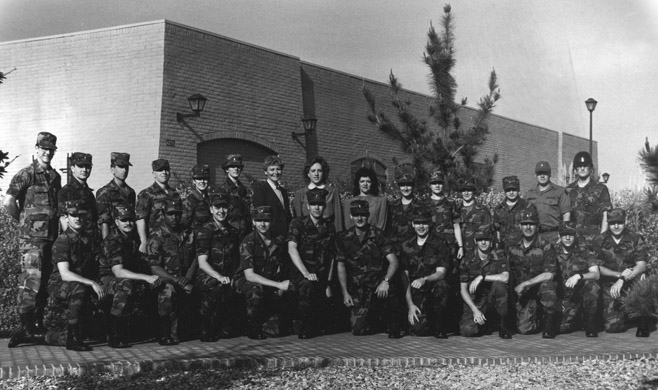 Class Roster and Contact Info

Kerry G. Alley (Wife: Ruby)

James B. Barbour
10212 Tujunga Canyon Blvd. #6
Tujunga, CA 91042-2243
818-353-3914
e-mail: jim.barbour@gmail.com
Victor Barrow
Cary H. Beck
Joseph L. Borders (Wife: Gwendolyn)
Donald L. Burdette
phone: (860) 649-7587
Edward A. Chesky
edwardchesky@yahoo.com
Donald S. Craig (Wife: Veronica)
Donna Dobrinski-Wattam (Husband: Mark)
Lloyd T. Frausel (Wife: Phyllis)
Joanne (Taub) Goldstein
David P. Grogan
George C. Hermalik (Wife: Maureen)
Monica A. Johnson
John S. Laws
e-mail: john@laws.tc
Text e-page: 5039380521@epage.arch.com
Natalie Lee
Kendra Martin
Elizabeth "Betsy"A. (McColley) Telleson (Husband: Doug)
9412 E. Kelly Dr.
Huntsville, Utah 84317
(801) 791-2659
e-mail: BTELLESON@nutracorp.com
Christopher D. Nyhan (Wife: Elizabeth)
James W. Rawles
c/o P.O. Box 303
Moyie Springs, Idaho 83845
e-mail: rawles@usa.net
Michael Reed
Stanley K. Ridgley
e-mail: SKRidgley1@aol.com

John Smith (our Tac. Officer)
David S. Spaulding
Patricia D. Stewart
Manuel "Manny" Tello
Michael L. Vanderbogart (Wife: Susanne)
11888 Catoctin Drive
Lake Ridge, VA 22192
703-494-6416
mvndrbogrt@comcast.net
Harold "Hal" B. Wahl, Esq. (Wife: Jane)
669 Ponte Vedra Blvd
Ponte Vedra Beach, FL 32082
(904) 285-7870
Biographical Sketches:
Jim Barbour:
I got off active duty in 1985. Went to work for Transamerica Insurance as a computer programmer. Stayed in a USAR unit for most of 1980s and then went IMA, then IRR. Last did duty in 1991 with 6th USAITAAS. Honorably discharged with rank of Captain in 2000. Still working as a computer programmer. Missed both Iraq conflicts as well as Afghanistan, Grenada, Panama, Somalia, Kosovo, etc. but was always ready to defend the US of A. I now enjoying hiking and the outdoors. Involved in local Presbyterian Church. Boring is good.



Don Burdette:
I spoke with Don in June of Aught Five. Don told me that after OBC, he worked as an engineer for Pratt and Whitney for about10 years. He then went to work for a small electronics manufacturing firm, where he is now a senior engineer. Don still lives and works in Connecticut.



Ed Chesky:
Ed e-mailed me the following in In October of Aught Six:
Following graduating MIOBC I served as the Asst. S2 and S2 2nd Bde 2ID. I then went on to serve as the 1st GSR Plt Ldr, 102 MI BN, 2ID. While serving as Plt Ldr I was involved in a DMZ shooting incident. Thankfully no loss of life resulted from it. Following my stint in Korea I was transferred to the 1st AD and served as Ast G2 Ops, Chief of Intelligence Production, Division Electronic Warfare Officer and Ast G2 Plans. Following the fall of the Berlin Wall I was picked up for command and spent four years at the National Training Center as a Company Commander in the Foreign Military Intelligence Battalion, with responsibility for serving as Technical Intelligence Adviser to CDR NTC and Chief of Foreign Weapons and Vehicle training for the installation. During my time in command my company was deployed to support XVIII Corps during the Gulf War providing technical intelligence support for the Corps. Following my tour in the Gulf, and at the NTC, I was selected for a Joint Assignment and served as Command Briefing Officer, Intelligence Watch Officer, and Chief of Counter Proliferation and Weapons of Mass Destruction, United States Pacific Command. Following that assignment I was selected to serve as G2 Ops, 10th Mountain Division. During that assignment I had to take a medical retirement due to a catestrophic illness stemming from previous exposure to nerve agent I handled during the 1st Gulf War. Following extensive rehabilitation, autoimmune treatment and steroidal therapy I, recovered and went on to serve in the civilian sector as Chief of Intelligence Training for the Saudi Arabian National Guard Modernization Program, Chief of Training for the JSIMS Joint simulations training program, and Lead Trainer and Systems Analyst for the United States, State Department ICZ program in the Republic of India and Mexico. Due to encephalitis I contracted in Mexico working on the ICZ program I suffered further injury and required additional treatment and rehabilitation to regain motor neurological function and speech skills. Following partial recovery I went on to work as a lead analyst supporting Operation Iraqi Freedom out of the Joint Analysis Center Molesworth England and as a Senior Systems Engineer. However, I continued to experience bouts of encephalitis and had to return to the United States for treatment. Following a protracted work up by the best specialists available I underwent successful treatment for the reoccurring encephalitis I contracted and I returned home to undergo rehabilitation therapy. All current medical work-ups, fortunately, indicate that I have been cured of the encephalitis I picked up in Mexico. I currently work as a corporate security trainer for one of the fortune 500 companies. I am married, have one child, two dogs and a cat. Given all that I have been through, I put a lot of stock in the almighty and have become quite active in Church. I am currently pursuing a Masters Degree and am doing quite well overall.


John S. Laws:
John contacted me via e-mail in 2006.
I am still with the Portland [Oregon] Police Bureau (my 25th year!). I will retire next year. I currently am an investigator in the Drug & Vice Division (this means I get to wear jeans to work ;-). I've done major stints as a gang intelligence officer and domestic violence investigator. I'm a past attendee at the International Russian Organized Crime Conference. I am a Lifetime Certified Criminal Analyst (http://www.certifiedanalysts.net/) and past President of the NW Chapter (AK,WA,OR,ID) of the International Association of Law Enforcement Intelligence Analysts.
On the Army side, after MIOBC, I was a Scout Plt Ldr for three years in the round-out Brigade for the 7th ID. I then was an Infantry XO and then did three years command time in the light
infantry. I did the IOAC at the Ft. Benning school for boys. I then got smart and transferred over to the Army Reserve into Psychological Operations. In the spring of 1990, I got activated
for Panama for a Civil Affairs mission as a Captain overseeing police operations in a county size area helping to train the old army to be police officers. PSYOPS and Civil Affairs are under SOF out of Ft. Bragg.
I went to the 104th Training Division for a stint as a G3 Training Officer (got CAS3 done), and then was accepted into the 364th Civil Affairs Brigade. I did the Civil Affairs Advanced Course. In Civil Affairs, I was the A/G2 for four years, then went to Bosnia for almost a year, and then finished as the G6. It was good work as we were at the strategic/operational level. I was the country desk officer Eastern Russia & Mongolia.
Civil Affairs is the best keep secret of the military! Our brigade supported Pacific Command, and was the interface with foreign governments. Our unit deployed teams to 22 countries in one two year stretch. Many of these were civilian clothes missions. I went to the Federated States of Micronesia, Republic of the Marshal Islands, Japan, Mongolia and Peoples Republic of China. Of course, we often had to go to Pacific Command in Hawaii to inbrief / outbrief missions! I decided to retire just before 9/11... I went to Bosnia in 1997-98 with a small team assigned to the Russian Army! I worked under a Russian Intelligence Colonel! ;-)
I'm married with four great kids! My beautiful wife was a political refugee from Poland (Solidarity). She is currently a school teacher teaching ESL. I've had a blessed life!


Betsy (McColley) Telleson
Betsy contacted me via e-mail in August of 2008:

After MIOBC, I went through Jump School--with Stan Ridgley--then on to the 224th MI BN (Aerial Exploitation) at Hunter AAF in Savannah, GA. My daughter was born in 1988, and I resigned my commission in 1989 to be with her. My son was born in 1993 and, when we moved to Utah soon afterwards, I discovered the linguist brigade in the National Guard there. I had been a Russian linguist for my first four years in the Army, and the 142d MI BN (L) effected my recommissioning in 1994. In 1995, I transferred to 19th Special Forces Group (Airborne) as their Assistant S2. After several years in that capacity, I commanded 19th Group's HHC for two years. From there, I became the commander of the Officer Candidate School for the Utah National Guard (2001 - 2004). After graduating three classes, I moved to I Corps Artillery as an assistant G2. I retired with sadness in 2006 as my unit deployed to Afghanistan on an all-male mission.

On the civilian side, I've worked for 14 years in various capacities for Nutraceutical Corporation, which is the parent company for approx 30 brands of health food store dietary supplements. They've been very good to me and worked with me through changing life circumstances, allowing some flexibility in my positions to work my real job as a mother. :)
I married Doug Telleson, whom I met in 19th SF, in 1999 and gained four stepchildren. Our six kids are wonderful, but only my son Michael (age 15) is left at home with me. Doug left his AGR position in the Utah Guard in early 2007 to serve with Special Operations Command at MacDill AFB, FL, for what we thought would be a final year-long assignment. However, he was asked to serve an additional six months in Iraq before retiring, and we're hoping that he will return safely to the States on schedule this October. My stepson, Derek (an amazing soldier), is an Infantry second lieutenant, and he deployed to Iraq this past Fourth of July [2008].

Interesting how the Internet can bring old classmates together, and I would love to hear from everyone!
James W. Rawles: I've spent the past 20 years primarily as a journalist and technical writer. I also found the time to write a novel which just recently went out of print after six years. ("Patriots"--see my main web page : www.rawles.to) I now write/edit a blog on survival topics--SurivivalBlog.com. In 1987, by God's grace I married The Memsahib. Some of you met her when she visited me at Fort Huachuca in the summer of '85. We have since had three children. We are home schooling them. We live out in the boonies, somewhere "West of the Rockies."
Our family enjoys hiking, hunting, and target shooting. We are members of a Reformed Baptist church. As part of our charitable works, we send "care packages" to troops deployed overseas. See the banner link to www.anysoldier.com at the bottom of this web page.
I was on the staff of Defense Electronics magazines for four years. I've also worked for Dalmo Victor (a defense contractor), Tektronix, Oracle Corporation, and briefly for Terraspring--a dot.com that "dot-bombed". Most recently, I've worked for SNC, a small but rapidly growing defense electronics contractor near Reno, Nevada. I did both technical writing and proposal writing for SNC. I am now self-employed as a freelance writer and blogger. (See: http://www.SurvivalBlog,com and http://en.wikipedia.org/wiki/Rawles )
I took a REDTRAIN TDY tour in Stuttgart, West Germany in 1986, where I worked an operational Guardrail mission with the 2nd M.I. Battalion. 1986 was the year of both the Chernobyl incident and the Berlin disco bombing, and it was before the Soviets withdrew the GSFG from East Germany. So that was a fascinating time to be working a live intel mission. When I was there I spent a weekend visiting with Dave Grogan who was then on the G-2 staff of the 3rd Infantry Division.
I resigned my commission when Bill Clinton was first sworn into office as President. At the time I was an O-3. I've often wondered what my life would have been like if I had done the full 20 years. I suppose that some of you stayed in and are now O-5s or O-6s...

Stan Ridgley:
Stan contacted me via e-mail in May of 2006. He currently teaches business at Temple, University.
I found this on the web about "Stanbo":
Stanley K. Ridgley is president of the Russian-American Institute. He served for
eight years as executive director of the Collegiate Network, a national
association of college newspapers, and for nine years as the editor of CAMPUS:
America's Student Magazine. His articles have appeared in Heterodoxy , the
University Bookman , the Charlotte Observer , the Raleigh News and Observer,
ORBIS foreign policy journal, and Charlotte Magazine , among others. In 1989, he
founded the Duke Review , a conservative student newspaper at Duke University
which still publishes. Dr. Ridgley holds a doctorate in political science from
Duke University and a bachelor's in journalism from the University of North
Carolina, and is a former military intelligence officer. He is the author of "Start
the Presses - A Handbook for Student Journalists." He told me that actually he
enjoys playing soccer, but, "Soccer's a 'jogging man's' sport and a sport for
overprotective mothers who want to shield their young men from injury. I find
soccer to be a robust metaphor for European foreign policy."
See: also: http://www.coachwyatt.com/stanleyridgleyonsoccer.htm

Mike Vanderbogart:
Here's what I've been up to since the MIOBC:
Upon graduation from the MIOBC I was assigned to Fort Huachuca. There I served as EW Staff Officer in Combat Developments, followed by EW Platoon Leader, and then a short stint as the 1st Battalion S-3. Upon completion of the MIOAC, I was stationed with the 10th Mountain Division, where I was the S-2 for 2-87 IN, the G-2 Tactical Surveillance Officer, and Commander of the Co A, 110th MI Bn.

While assigned at Fort Drum I was selected for the Army's Eurasian Foreign Area Officer (FAO) program, which sent me back to DLI for basic Russian, then to the University of Kansas for a MA in Russian and East European studies, and then to Garmisch, GE as a Senior Fellow at the George C. Marshall Center for Eurasian Studies. During this time I spent a number of months in Minsk, Belarus coordinating mil-to-mil contact events.

From Garmish, I was assigned to the Pentagon where I served as Presidential Translator for the Moscow-Washington Hotline (MOLINK), J-3, and then Central Asian Desk Officer in J-5, where I coordinated the first ever US/Central Asian mil-to-mil contact programs.

I retired from the Army in early 1999. After numerous unsuccessful attempts to find non-DOD related work (I wanted to do something different), I accepted a position as a government contractor providing on-site support and have worked in that capacity since. I've provided contract support as OPFOR Intelligence Integrator at JFCOM; UAV Systems Synchronization Officer on the Army staff; a stint in J-7 working international doctrine and interoperability issues; and finally in my present position as a UAV Systems Analyst supporting the USD(I).
Hal Wahl:
I spoke on the phone with Hal in early 2006. He told me that he did a three year active duty stint as a JAG officer. Since then he has worked as a prosecuting attorney and more recently as a criminal defense attorney in Florida.
Photos:
---